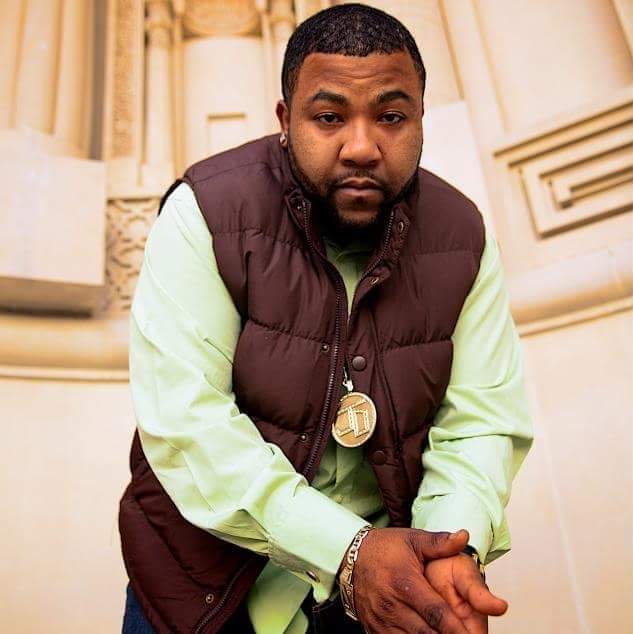 Born into Hip Hop literally and let me tell you a little story how…August 2nd, 1979 SugerHill Gang recorded "Rapper Delight" the first Hip Hop single and released it on September 16th, 1979 right?
Jay Dix mother always told him his due date was August 2nd, 1979 but for some reason Jay Dix didn't pop out of L-Nett's body until September 14th, 1979. Two days before they released this earth shattering new form of music to the world. His mother also told him that on the way home from the hospital we both heard the song for the first time on the radio and young Jay Dix aka Chef Dix couldn't stop moving and shaking the whole ride home. So he was basically born into the moniker of "World's 1st Rappin Chef."
Born and raised in Youngstown, Ohio until the young …age of 18. JAY DIX aka Chef Dix has always carried a passion for music close in his heart. He was exposed early on to music through his mother. It's was bacon, eggs, grits and Luther Vandross every morning in his home growning up. She played all the great R&B hits giving him the perfect understanding of what real music should be. After graduating high school Jay moved to Pittsburgh, Pa to further his education. After receiving two degrees M dot Jones set his sites on a bigger goal…RAP MUSIC. Starting up 1403 Entertainment in 2006 the self-described super fan got tired of all the weak music being put out by these so-called hiphop artists and decided to pick the mic up..enter JAY DIX aka Chef Dix.
Jay Dix began preforming at local parties, local TV shows and underground hiphop spots all around the 412 and 330 in 2006. Trying to build a local buzz he put together a RAW 17 track mixtape "YOU N G's TOWN" in 2007 and hit the streets. Recorded at Well Rounded Studio in Youngstown, Ohio and engineered by Kenny Ali. Jay Dix single-handily gave out 1500 copies of his "YOU N G's TOWN" mixtape between Pittsburgh,PA- Youngstown,OH- Warren, OH- Chicago, IL- Niagara Falls, NY and Baltimore,MD. Jay Dix's unique style, player swagger and catchy rhymes soon set him aside from your average MC. Writing about real life situations he speaks about his own personal life experiences through HipHop……
Jay Dix dropped his official debut street album "MAHOGANY JONES, OVER A TRILLION SERVED" in 2008. With most of the production duty handled by Neisa Beats and recorded mainly at Yo Momz House Studio, engineered by "Award Winning" Emmai Alaquiva. Jay Dix feels it's his time to really shine with his debut single "SNEAKER PIMPIN" from this CD. An unbelievably "SNEAKER PIMPIN" was Jay's first rhyme he ever wrote and it went straight to radio. He's sure his songs "BEAT KNOCKIN (RX) ft KEYGAN BRYANT" and the R&B smash hit "RESPECT MY SWAG ft. ALMOND JOY" (106.7 WAMO, Battle of the Beats 3 week winner!!) will have heads bopping from Maine to Spain.
At the start of 09′ Jay Dix hit the streets hard again with his single "I'M THE BOMB" produced by Keygan Bryant really got heads turning. This song was featured on his slept on mixtape "THE MONKEYS NEST" released the summer of 2009. This orginal and suprisingly creative mixtape was released to good reviews through out Pittsburgh, Northeast Ohio and the web. Recorded at Twisted Vision Studio and engineered by Pittsburgh's "Producer of the Year" Mysterious. This mixtape was filled with hot freestyle, raw & creative rhymes……Jay Dix started to prep his debut Lp "MAHOGANY THE CHEF" for a spring 2010 release with the bulk of the recording & engineering done by HiTT Maker of MCM Studio's. With the first singles being "EXTRAORDINARY SWAG" & "Fresh 2 Def" followed by "SMOKE & RIDE ".
Following that album Jay Dix put together a classic mixtape worth of material called "THE FIX" for the fans to digest before he dropped his next and most personal album to date 2013's…"THE BIRTH of M DOT", with the lead off singles "CELEBRATE ft. SMOOVE" & "PIMPIN IS BACK ft. MISS MONEY" plus "WALK ON ft EZ da Rockstar and Super Twenty-Two!!
Jay then teams up with B.Brixx on the cleaver getting money anthem "DOPE BOI PIMPIN" off of his 2015 release "The RADIO BAR, Ep", for a solid banger.
MIND OF MAHOGANY- VOL 1, "GREATEST HITS ~ OUT NOW!!!!!
THE ADVENTURES OF VELVEETA SLIM ~ OUT NOW!!
New Ep "THE LEFTOVERS Project " ~ OUT NOW!!!!!
New International Album….
"JAY DIX- THEE ALBUM" dropping exclusively in China… 2020
New Ep's …
YOUNGSTOWN PRIDE -Ep Produced entirely by Mello Dee &
THE BIG GOUDA Ep, Produced entirely by Jon C (Winner Circle) ~ OUT NOW!!!
Contact: 1403entmusic@gmail.com Phone: (412) 330-1994
---
Reader's opinions
---