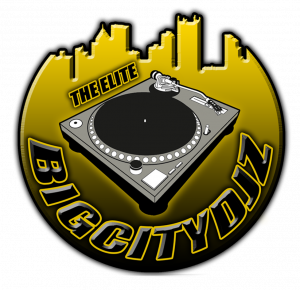 CHRIS HOYE IS A PIONEER OF THE PITTSBURGH HIP HOP CULTURE AT THE AGE OF 46. AT THE TENDER AGE OF 11 THE RESIDENT DJ WOULD BEGIN HIS JOURNEY TO EMERGE AS A NEED TO KNOW HIP-HOP ICON IN THE CULTURE. WITH HIS PASSION FOR MUSIC IN THE 70'S. HE WOULD BE LEFT WITH AN IMPRESION OF HIS FATHER'S PASSION TO PLAY MUSIC & ENTERTAIN HIS PITTSBURH NEIGHBORHOOD. AS A CHILD, HIS DAD," RODGER DODGER, THE DADDIO OF THE RADIO" OFTEN TURNED HIS BEDROOM INTO A REAL LIVE RADIO STATION AS HE PLAYED MUSIC & DJED FROM HIS HAWKINS VILLAGE PROJECTS WINDOW SEAL. HIS DAD'S PASSION FOR MUSIC WAS BORN AGAIN IN CHRIS YEARS LATER AFTER HE WALKED AWAY FROM MUSIC & DECIDED TO FOCUS ON HEADING HIS OWN HOUSEHOLD. CHRIS'S PARENTS RECOGNIZED HIS KEY SENSE OF SOUND, AND LOVE TO ENTERTAIN PEOPLE. AS HE EVOLVED INTO A FULL FLEDGE BLITZ AMONGST THE HIP HOP SCENE AS A BEAT BOXER, GRAFITTI ARTIST, BREAK DANCER, AND MC CAME TO THE INTRODUCTION OF DJ DEF WHO EVENTUALLY CHANGED HIS NAME TO DJ SCHIZOPHRENIC.
BY 83' DJ DEJ AKA DEF WEAR WOULD BEGAN DEVELOPING & SHARPENING HIS SKILLS AS A GRAFFITI ARTIST PAINTING CLOTHES & AS A DJ BY SECURING EQUIPMENT & CRATES OF RECORDS FROM FAMILY & FRIENDS. HIS RECORD COLLECTION OF HIP HOP  R&B, REGGAE, BALTIMORE HOUSE, DRUM N BASS, JAZZ, SOUL, DISCO, AND EVEN CLASSICAL MUSIC WHICH  TOTALED OVER 100 CRATES OF MUSIC & OVER 150,000 MP3 & VIDEO FILES.
INFLUENCES FROM THE LIKES OF GRANDMASTER FLASH AND GRANDMASTER DST INSPIRED SCHIZO TO MAKE HIS TRANSITION FROM B-BOY/GRAFFITI ARTIST TO DJ WHICH DIRECTLY REFLECTS HIS INCREDIBLE SCRATCHING, MIXING, BEAT JUGGLING, & PHYSICAL TURNTABLE TRICK ABILITIES, AS A PRODUCER & HIT RECORD BREAKING DJ. SCHIZO CAN ASSESS A HIT RECORD IN 7 TO 10 SECONDS BASED AROUND THE EAR HE HAS GAINED FROM THE LATE, LEGENDS OF MUSIC. WHEN HE SAYS A RECORD WILL BE A HIT "CAUSE SCHIZO SAID SO" THE PEOPLE LISTEN! 
AS MORE THAN JUST A DJ, HE DEMANDS RESPECT & ORDER FROM ALL IN INVOLVED WHEN HE'S IN THE BUILDING.
IN 1992, AFTER PLEDGING THE INFAMOUS LAMBDA MU CHAPTER OF PHI BETA SIGMA FRATERNITY INCORPORATED, HE PICKED UP THE NICK NAME SCHIZO WHICH NATURALLY BECAME DJ SCHIZO OR DJ SCHIZOPHRENIC BECAUSE OF THE FRENZY HE WOULD CREATE WHILE DJING MAKING HIS AUDIENCE GO CRAZY. SCHIZO'S PRECISE AND CLEVER WAY OF MIXING & INTRODUCING SONG AFTER SONG WAS SOON TO BE EXPERIENCED BY CROWDS AT NEARLY EVERY COLLEGE & UNIVERSITY IN THE TRI-STATE AREA. OVER THE COURSE OF THREE DECADES IN THE BUSINESS, "CAUSE SCHIZO SAID SO" WOULD BE PLASTERED IN THE MINDS OF PARTY GOING PEOPLE AROUND TOWN AS WELL AS IN THE THOUSANDS OF TV & RADIO COMMERCIALS AND HUNDREDS OF MIXTAPES. AS THE RECIPIENT OF THE 2009 MCDONALD'S FLAVA BATTLE AWARD,2007 BEST CLUB DJ AWARD & 2008 BEST MIXTAPE DJ AWARD AT PITTSBURGH'S ANNUAL HIP HOP AWARDS, SCHIZO WOULD EARN AND PROVE HIS WEALTH WITHIN COMPETING AMONGST ANY CHALLENGER AS THE PEOPLE'S CHOICE.   IN 2012, DJ SCHIZO PARTNERED UP WITH DJ BEST KEPT SECRET & DJ T-MAC TO FOR THE ELITE DJ CREW & ALLIANCE, BIG CITY DJZ WHO STAND TO BE THE MOST SOUGHT AFTER DJS IN THE PITTSBURGH & SURROUNDING AREAS.
A VERY ANIMATED & ENERGETIC DJ & HOST IS WHAT YOU WILL SEE AT ANY EVENT DJED BY SCHIZO. QUOTED BY DJ SCHIZO "MUSIC IS MY ADRENALINE" WHICH IS KNOWN TO GET HIS FANS HYPED AT THE SCHIZO SHOW. JUST ASK ANYONE IN THE CROWD AT HIS COUNTLESS SHOWS THROUGHOUT THE STATES. SCHIZO HAS MADE FREQUENT APPEARANCES AT NIGHTCLUBSAROUND THE US. HE'S ALSO PLAYED AT LARGE ARENAS SUCH AS MELLON ARENA THREE DIFFERENT TIMES IN PITTSBURGH TO OVER 10,000. SCHIZO ROCKED A CROWD OF OVER 20,000 PLUS AT NORFOLK STATE UNIVERSITY SHARING THE STAGE WITH P. DIDDY AND THE FAMILY, AS WELL AS OTHER VENUES WITH NOTED ARTIST LIKE LIL WAYNE, YOUNG JEEZY, GUCCI MANE, T. PAIN, & SOULJA BOY TO NAME A FEW, IS ALL TOO COMMON FOR DJ SCHIZOPHRENIC.
WITH LESS FOCUS ON THE STARDOM, AND MORE ON THE OPPORTUNITY TO PLEASE MASS CROWDS, IT'S RARE THAT YOU WILL SEE DJ SCHIZO IN CELEBRITY PHOTOS. HE IS MORE CONCERNED WITH ENTERTAINING AUDIENCES & DJS AROUND THE WORLD BY CONTROLLING THE SCENE WITH NEW & OLD MUSIC. SCHIZO ENCOURAGES ALL DJS TO KNOW THE IMPORTANCE OF HAVING ACCESS TO NEW MUSIC AT ALL TIMES TO APPEAL TO ALL AUDIENCES EVEN RIGHT WHILE THEY ARE DJING IN 2018. 
CURRENTLY,  DJ SCHIZOPHRENIC TOURS THE COUNTRY WITH TWO OF PITTSBURGH TOP ASPIRIING HIP-HOP RECORDING ARTIST, OWEY & LUA PROC AS THIER TOUR DJ IN TOTALLY SEPARATE TOUR AGGREEMENTS WHEN HE'S NOT SERVING AS THE RESIDENT DJ IN SEVERAL NIGHTCLUBS IN THE PITTSBURGH & SURROUNDING AREAS. TODAY, WHEN DJ SCHIZO ENTERTAINS HIS AUDIENCES HE MIXES LIVE VIDEOS ALL WHILE SCRATCHING & BLENDING FOR SONG TO SONG WITH OCCASSIONAL MOVIE OR CONCERT DROPS TO MAKE THE EXPERIENCE MORE ENTERTAINING UNLIKE THE TYPICAL DJ WHO SOLEY RELIES ON MUSIC ONLY.
WITH DJ SCHIZOPHRENIC, YOU ARE GUARANTEED A HEIGHTENED EXPERIENCE AND A CROWD LEFT IN THE MODE, TAKEN OVER BY HIS UNIQUE DROPS AND CUSTOM SOUNDS IN HIS SETS. SCHIZO'S CLEVER MIND DRIVEN PUNCH LINES KEEPS EVEN THE MOST MODERN PERSON MOVING THEIR FEET. INTERACTION AND COMMUNICATION IS KEY AND WITH SCHIZO, LOOK NO FURTHER THEN RIGHT HERE, AND STAY TUNED IN TO A TURNTABLE,  HOST, BATTLE DJ, ENTREPRENEUR,ANCHOR, GRAPHIC DESIGNER, PRODUCER, BRAND AND SIMPLY MORE THAN YOUR AVERAGE DJ.
---